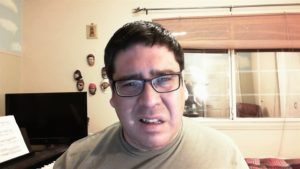 Warcraft 2 Bio
| | |
| --- | --- |
| Main WC2 Username | jessu001 |
| Began Playing | I played 1998-1999, 2003-2008, 2012 - still at present playing game |
| Quit Playing | Still active at present |
| Map / Speed / Resource Preference | Plains of Snow EF High Res Gow EF High Res |
| Favorite Unit | guard tower |
| Clans You've Belonged To | None |
| Accomplishments | Navigated my peon from 6 to 12 in under 20 seconds |
| Favorite Allies | Shotgun |
| Favorite Enemies | I love my enemies, bless them that curse me; do good to them that hate me; pray for them that despitefully use me |
| Shout-Outs | Hi Man |
Real Life Bio
| | |
| --- | --- |
| Real Name | Alexander |
| Birthday | April 22, 1982 |
| Info About Yourself | I once orchestrated a movement of Beethoven on the piano that was very calm and pacifying. |
| Location | California |
| Life & Career Goals | To announce and gather forth a great company of leaders |
| Musical preferences | GOOD |
| Favorite Political Party | Christian |
| Hobbies | Piano; Pull-ups; Jump rope; Socializing |
| Hottest LAY-dee (or fella!) | Only have sexual relations with a female in marriage |
| Quote | Love your neighbor as yourself |
Long Form Answers
Best skill?
Getting exceedingly angry and very wroth.
Worst "skill"?
None.
If you could change one thing about War2 what would it be?
I change what I desire.
Favorite strategy?
Hall first.
Anything you regret?
No.
Confessions
OOO CONFESSIONS OOOOOOOOOO. Ok. Wow. Ok. I took this peon... navigated it through the trees, made him hack a tree and after about 45 minutes of the game I still had him holding the trees in his hands. I AM SO SORRY MAN. MAN.... TERRIBLE MAN.
Suspicions
I suspect that Shotgun when playing uses his feet to hit keyboard commands to improve and speed up his game.
Thoughts on debatable issues
The bible.
Most memorable games/times?
Playing the #1 ranked cases ladder Lynch_Mob ~1999 on kali.net on Plains of Snow EF High res nh (no hacks). We each did the same strategy after scouting, (he was top right, I was bottom right:) he walled in fast lust with 2 dwarves; I walled in fast lust with 2 dwarves. He got lust a little faster and made his attack just before I was going to leave my base and obliterated everything I had.
What makes you memorable?
Christ, and all his accomplishments.
How did you get your name?
A university I went to gave me the email address 'jessu001;' based upon my last name, Jessup. When logging onto bnet, it asked for 'username' so I just typed that in. Was hard to get a game when bnet was more epitomized because the name was an automatic ban.
Who was the best of all time?
Of winning, moving units, being wonderful for the game?
Describe your "career" from start to finish.
I went to the bathroom. I came out. I had prayed. I decided to go into war2 (~2004.) I lifted up the bible. After not following the bible the way I did, started to learn the game competitively in ~2012 though since then I still haven't amassed a total of 3600 games on gow ef. In 1998 I had restrictions, and the modem was connected to the phone line so if someone called the house the game would end.... I could only play Fridays and Saturdays and for limited hours (on kali.net). Stopped ~1999.
Any parting words?
War 2 is a game of notions that is not parting to disaster, but can overcome obstacles in one's life through negotiation of units, and commanding of various discrepancies and unit restrictions that is momentous for the obliteration of the other persons' base.