This article explains how to live stream Warcraft II on Twitch.tv using Open Broadcaster Software (OBS). OBS is the best streaming software available. It's better than XSplit and FFSplit, and it's free.

Initial Setup
If you don't already have a Twitch.tv account register here.
Download Open Broadcaster Software and install it. If you get a prompt about DirectX click "Yes", download the file from the page it brings you to, run it, wait for it to install, then run the Open Broadcaster Software installer again.
Next, you have to set up a capture device in order to capture Warcraft 2. Set up Capture Device 1 for Windows Vista & Windows 7, or Capture Device 2 for Windows 8 & 10. Don't set up both.
Capture Device 1: UScreenCapture
For: Windows Vista & Windows 7.
Download UScreenCapture and install it.

Download uscreencapprog_remove_cursor.zip. Open it, go inside the folder "uscreencapprog" inside the zip archive, go to C:\Program files (x86)\UnrealStreaming\UScreenCapture and copy+paste the files inside "uscreencapprog" there. This is required to fix colors. If you did it right it will ask you to replace some files – replace them.
Make sure you're running the 32 bit version of OBS (there is a different shortcut for it). In the OBS main window right click in the empty space below "Sources", select Add > Video Capture Device and enter "UScreenCapture" as the name. In the Device drop-down menu select "UScreenCapture"

(pictured below)

. If it doesn't show up either you installed it wrong or you're not running the 32 bit version of OBS.
 
After selecting "UScreenCapture" as the device, click the "Configure" button next to it. Enter 640×480 as the coordinates in the bottom right-hand boxes, like so:


Next, download uscreencapture.reg, double click it and select "Yes" for all the prompts. This will fix the solid black/red square problem. Doing this step is required every time you change the resolution.
Now proceed to the "Once the capture device is set up" part of the guide below.
Troubleshooting:
If there's a solid red or black square, you didn't do the uscreencapture.reg step right.
If colors are wrong, you didn't do the uscreencapprog_remove_cursor.zip step right.
Capture Device 2: OBS Monitor capture
For: Windows 8 & 10.
Make sure you're running the 32 bit version of OBS (there is a different shortcut for it). In the OBS main window right click in the empty space below "Sources", select Add > Monitor Capture and enter "Monitor Capture" as the name.


Uncheck the box beside "Capture mouse cursor" then click "OK"


You're done! Proceed to the next section.
Once the capture device is set up
Go to Speedtest.net, run a test, and make a note of your upload speed. Your UPLOAD speed is what matters! Your download speed doesn't matter, so ignore it.
In the OBS main window click Settings and select "Encoding" on the left. In this tab you can set the bitrate of your stream. Higher bitrate means better quality but also more lag. If you have a newer PC, you can switch to QuickSync for higher performance.


Select "Broadcast Settings", then go to this page and click the "Copy" button to copy your stream key to the clipboard. (Note: your stream key isn't your Twitch password! You must get it from the linked page!) Once you have it, fill out the fields as shown below:



You can optionally enter 60 – 120 in the "Delay" box to delay your stream 1 – 2 minutes (useful e.g. when playing tournies or other highly competitive matches) but leaving delay at 0 is generally better to give your audience the best viewing experience.

Select "Video" and enter 640×480 as the resolution. Note that your stream will be cut off when streaming the desktop, but when streaming Warcraft 2 it'll be perfect. (For Windows 8 & 10 do NOT change the resolution – use the default in OBS.)


Select "Audio". If you have a microphone you can enable or disable it here. When disabled the microphone volume bars will appear grayed out in the main OBS window.


Select "Advanced" and adjust the following settings:



If you enabled Quick Sync in the "Encoding" tab, in the "Advanced" tab you should adjust the Quick Sync preset to "Balanced" (the default is "Best Quality" which will probably lag you).

Click "OK" to exit the Settings window, then click on "Preview Stream" to preview your stream. You should see the upper left-hand corner of your desktop – this is normal. (When playing Warcraft 2 the game will display perfectly.) If everything looks good, then click on "Stop Preview".
You're now ready to stream! You can click on "Start Stream" to begin streaming, or set up custom hotkeys under Settings > Hotkeys.
Saving your broadcasts
For Twitch to save your videos you must click this link to enable the "Store past broadcasts" feature in your account. Once enabled Twitch will save all your past broadcasts for two weeks after the live stream date.
During that time you can "Highlight" or "Export them" — Highlight lets you select all or a portion of a video to save forever on Twitch, and Export sends the video to your linked YouTube account. (You can also export Highlights after you create them!)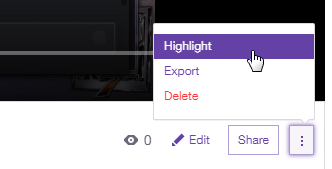 Problems with laggy stream / high CPU
If you've adjusted your settings based on the guide above and your stream still lags try using iL's
CPU Savior
app. Download, unzip, and run the app & leave it running while you play. (Must start it every time before you start playing.)
War2TV

Don't forget to give your Twitch channel & Warcraft 2 usernames to
mousetopher
so your stream shows up on
War2TV
!
Optional step: Advertise War2.ru in your stream
An optional last step is to add a text overlay to your stream advertising War2.ru.
Right click in the Sources window and select Add > Text and enter "Text" as the name.


Enter the text "Play Warcraft 2 online at http://en.war2.ru" or similar. Select the size, color & placement you want for the text. (I use these settings to add an unobtrusive yet visible overlay to the bottom right-hand corner.)


Help support the community. Thanks!