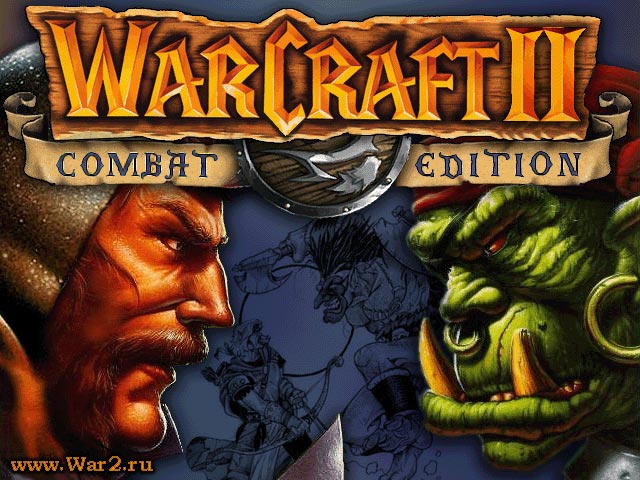 Download other War2Combat versions, other languages
Why to download War2Combat
Warcraft II: Combat Edition, aka War2Combat, is not just one of many builds for popular Blizzard games.
This is a project that has been developing over the past 15 years, being in fact the standard of modern Warcraft II for the entire active global community of online Warcraft II players.
Over these 15 years, all the finest mechanisms of working on modern computers under all possible operating systems have been debugged:
Combat have been tested for all Windows since XP to lastest updates of Windows 10 / Windows 2019, also Linux OS (under wine) is tested and working fine. It includes several new features & bug fixes designed to improve the multiplayer gaming experience.
Some annoying mistakes of the original game were caught and corrected.
War2Combat is NOT any kind of warez / pirate software. It handles the CD-keys the same way as "official" Warcraft II from GOG. It will work with GOG server only if you have legal official GOG or Blizzard CD-key.
Several useful additional programs have been developed: for recording your games, assessing your APM, and for more comfortable spectator / observer mode.
To fix the graphics, the problems that started with the release of Windows Vista, all available options were tried. Although each of them somehow corrected the graphics, each had certain problems in Warcraft 2.

As a result, the most talented programmers were recruited, specializing precisely in the nuances of graphics in old and new Windows, and after numerous tests, they jointly refined the graphics to the desired perfect result.
This result continues to be actively used by the community, therefore any slightest problems are immediately identified and promptly corrected.

Another common problem of Warcraft II is the inability to create a game so that other players can connect to it. This is an architectural problem of the original game.
We have done a lot of work to circumvent these problems. There is no such fix in any other existing release.
Although Warcraft II Combat was originally developed as a project for multiplayer – it also worked out the details of a single player game to the smallest detail:
Improved computer intelligence added, literally tearing anyone, even the most experienced players. However, this option is also great for playing together against computers
All original video clips, music, sounds & campaigns are fully preserved. However, from this side Combat is hardly different from other assemblies, which in the same way took the original game resources
The entire original gameplay has been fully preserved: "strange" obstacle avoidance algorithms (pathfinding), tree-chopping, the so-called tower bug, multicast, which could be called errors, have long become features of the gameplay, and therefore are left unchanged.
The most important feature of War2Combat is that the project is being developed with love for the game, by people who actively play it for people who also love war2 and have been playing it for more than 20 years – from the very first days!
And all these people were engaged in and continue to do it for free, in order that everyone could play the best warcraft 2!

Light version includes the same as standard one except:
Campaigns
Units annoy voices and heroes voices
Unused or rarely-used textures
Map editor (available as a separate download)
Map pack (only the most popular maps kept)
All the additional utilities
Lossy compression for sounds to minimize their size in the installer. (Sounds similar to original, but reduced size) Standard and full versions use lossless packing, similar to original game
Standard version includes:
Additional utilities for network gaming:
War2Insight (for replays writing/playing)
Gateway editor (for changing gateways)
Offline battle.net to play BNET-games in local network
Full version includes the same as standard one plus:
Music
Movies
Sounds for campaign briefings
Version History
Version 4.5 Sep 2019
Added selection between exe versions:
2.0.2.1 GoG, 2.0.2.0 original or 2.0.2.0 with plugins
Starting Warcraft II under Windows 7 (and probably others) fixed
Hole puncher added – no real IP required for game hosting (FunkyFr3sh)
DDraw configuration tool added – visualiser configuration (FunkyFr3sh)
Added plugin system – many different useful things (Lambchops)
Added Warbux map pack, being count as Ladder games in ladder.war2.ru
Kpuds map pack added. Also 3 official Blizzard maps added.
Warvideo flicker free! (only with FunkyFr3sh ddraw), interface improved
Added Russian language to WarVideo (will work if the OS language is Russian)
"Quick messages" added (see details in messages.txt)
Improved display message when WarLatency mode is switching on
Dimmed winter option (Snow brightness descreased on Winter tileset)
A few more stuffs added to interface options
Fixed small bugs in winter tileset and somewhere else.
Fixed several typos and inaccuracies in russian version
Restored or redesigned several game menus in russian version
Improved to varying degrees all five russian fonts,
the character set is expanded, Ukrainian and Belarusian letters added
"Click" changed in bom2click option
Small improvements in installer
War2Combat version number added to credits
Version 4.4.4
UltraViolent campaign added
Version 4.4.3
One more fix for DEP
Some small installer improvements
Version 4.4.2
For CD-keys management compatibility, Warcraft II version changed from classic 2.0.2.1 to GoG 2.0.2.1

now combat not requires to manage any CD-keys after being installed by GoG. It just uses GoG's cd-keys, together with GoG.
GoG's KeyChanger added to combat.
at the same time, install.exe have been renamed to install.mpq. (Also by GoG 2.0.2.1)

ddraw_test2 removed and replaced to ddraw_Aqrit by FunkyFr3sh (aka fois)

That's sufficiently improved version based on test2.

ddraw_test4 removed and replaced to ddraw_CnC by FunkyFr3sh (aka fois)

That supports OpenGL rendering with lots filters.
Version 4.4.1
Updated War2Ppatcher for 2.0.2.1 supporting warlat and resBug fix
Updated War2PLoader for 2.0.2.1, removed antihack, removed autoupdate as attached to server.war2.ru
Version 4.4.0
Combat adapted to new official version by GoG released today.
At the same time it's still compatible with unofficial servers.
Version 4.3
War2Combat becomes multilingual. Added installers on: Russian, German, French, Spanish, Italian and Polish languages.
Also, War2Combat since this version have 3 sizes: standard version, lite version and full version.
Standard version:
default (for combat) map pack included,
campaigns,
all the sounds for all units,
all the textures,
map editor,
additional utilities for network gaming: War2Insight, Warvideo, War2Observe.
Full version contains the same and also includes:
sounds for campaign briefings,
movies,
music.
Version 4.2
Added 2 versions of DirectDraw by aqrit, with autodetecting compatibility
Added some minor fixes for Windows 8/10 compatibility
Added gateways appending option to let you keep your gateways with other servers
Added Warcraft II map editor
Added War2Insight, Warvideo, War2Observe as utilities
Installer is not remember previous components configuration anymore, every time offering optimal configuration
Small fixes related to interface
False-positive virus detection fixed
Version 4.01
update by iL (Version 4.01)
Changed the concept of Combat. Some more beauty and functionality instead of smallest size.
Moved/changed some custom maps
Added built-in maps
Added the textures
Added units annoy voices and heroes voices
Restored AI Extended for AIE maps
Campaign added. Choice between violent comp AI and campaign
Color/icons fixes by DirectDraw/OpenGL for new Windows
"Random port" option to allow several connections from the same subnet using common external ip
GOW EF High by default for new installations
WPpatch replaced by War2PLoader: new autoupdating utility with UPNP support and more
Fixes and updates in installer
Version 3.15
update by Lightbringer- (Version 3.15)
Check added for Windows 7 color/Icon Fix. Will not install on Windows 8
War2 install path will now default to c:\war2combat irrespective of your previous settings.
Added all classic/BNE maps (+118 maps)
Compression set to LZMA2/Ultra for best compression
Version 3.1
update by Lightbringer- (Version 3.10)
In game color fix
Fixed chat icons
Black to pink patch
Added mousetopher's server in gateways.
Version 3.05
New in version 3.05
rewrite gateways checked by default
Version 3.04
New in version 3.04
some small fixes: gateways, interface, intro and banner pictures, AIE maps
Version 3.03
New in version 3.03
improved sound quality, almost like full version
gateway list updated
new AI by Rotonda, full version compatible and maps for it
fixed bug with banner in game chat
a pair of maps added
small modifications: renamed files, shortcuts, small installation interface modification
AIE – AI Extended, version 3.03
New AI by Rotonda makes the computer players better. AI can "select" different strategies for different maps.
New AI can be used ONLY on maps from "aie" directory. AI would be standard on usual maps.
Maps in Scenarios and Scenarios_Sea directories require game type "Use Map Settings" and default resources.
All the maps have been tested, and you can win on all maps although it can be difficult.
Version 3.01 & 3.02
New in version 3.01 & 3.02
War2Ppatcher updated to 5.1 – Iron Man Ladder threshold lowered to 0
no more than 1 shortcut created on desktop
no privileges required to install
shortcut created on current user desktop, not all users
war2combat title changed
ladder list updated
Version 3.00
New in version 3.00
Iron Man Ladder bug fixed
Installer size compressed to 11 Mb
New installer, making installation process more flexible
Some useful tools included
Warcrat II BNE 2.02 patch
Changes in version 2.02
Improvements
Eye of Kilrogg can now patrol.
Fixed some Battle.net issues.
Added support for Battle.net gateways.
[PC Only]. The registry key HKEY_CURRENT_USER is used rather than HKEY_LOCAL_MACHINE.
Battle.net Create Game Chatroom now lists resources and starting location along with map size and game speed.
Major bug fixes
Fixed a hack which would allow you to perform upgrades repeatedly,
bringing your units to normally unattainable levels.
Minor bug fixes
Fixed a bug where sappers would sometimes walk up to the wall, but not detonate.
Fixed a bug which caused the menu screens to become unresponsive to clicks if the computer had been left on fordays or more.
If a player is #1 on both Ironman and Regular ladder, it now shows Ironman stats, not the Regular stats.
Map-passing now sets the map's creator code to W2Be (a Map Editor file) instead of WBN (a War2BNE file).
Clicking on the portrait of an invisible unit not your own no longer centers the map on that unit.
Previously, if somebody else had allied with you, you could not cast death coil on them even if you were not allied with them.
[Mac only]. The application resource version no longer states beta, and copyright notices corrected.
WP patch 1.488
for Warcraft II BNE 2.02
Created by zzzKOTzzz and iL
Email
zzzkotzzz@list.ru
Instruction
Copy file "WPpatch.exe" to your Warcraft II BNE directory.
Run "WPpatch.exe". It will run Warcraft II BNE with WP patch features.
Functions
Loads game without CD*
Even Faster speed for Ladder in create game screen
Even Faster speed for Ironman Ladder in create game screen
Unlock resources for Ironman Ladder in create game screen
Fix bug with resources in create game screen
Allows you to build walls in Single Player
*Usage:
Copy file "install.exe" to your Warcraft II BNE directory (from game CD)
Go to registry HKEY_CURRENT_USER\Software\Blizzard Entertainment\Warcraft II BNE
Find (or create) value War2CD and change it to your Warcraft II BNE directory
Go to registry HKEY_LOCAL_MACHINE\Software\Blizzard Entertainment\Warcraft II BNE
Find (or create) value War2CD and change it to your Warcraft II BNE directory
Execute WP patch
Credits
Idea and first versions by zzzKOTzzz,
Update and revision by il (versions 3.xx)
Updates in v3.1 & 3.15 by Lightbringer-