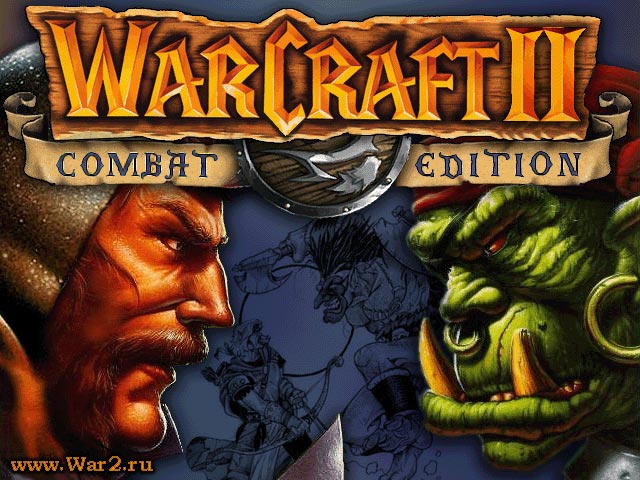 Warcraft II: Combat Edition, aka War2Combat, is a custom lightweight version of Warcraft II: Battle.net Edition designed for portability and ease of use.
It allows you to play on Battle.net-style servers like War2.ru without a CD or CD key and adds several new features & bug fixes designed to improve the multiplayer gaming experience.
Version History
Version 4.01
update by iL (Version 4.01)
Changed the concept of Combat. Some more beauty and functionality instead of smallest size.
Moved/changed some custom maps
Added built-in maps
Added the textures
Added units annoy voices and heroes voices
Restored AI Extended for AIE maps
Campaign added. Choice between violent comp AI and campaign
Color/icons fixes by DirectDraw/OpenGL for new Windows
"Random port" option to allow several connections from the same subnet using common external ip
GOW EF High by default for new installations
WPpatch replaced by War2PLoader: new autoupdating utility with UPNP support and more
Fixes and updates in installer
Version 3.15
update by Lightbringer- (Version 3.15)
Check added for Windows 7 color/Icon Fix. Will not install on Windows 8
War2 install path will now default to c:\war2combat irrespective of your previous settings.
Added all classic/BNE maps (+118 maps)
Compression set to LZMA2/Ultra for best compression
Version 3.1
update by Lightbringer- (Version 3.10)
In game color fix
Fixed chat icons
Black to pink patch
Added mousetopher's server in gateways.
Version 3.05
New in version 3.05
rewrite gateways checked by default
Version 3.04
New in version 3.04
some small fixes: gateways, interface, intro and banner pictures, AIE maps
Version 3.03
New in version 3.03
improved sound quality, almost like full version
gateway list updated
new AI by Rotonda, full version compatible and maps for it
fixed bug with banner in game chat
a pair of maps added
small modifications: renamed files, shortcuts, small installation interface modification
AIE – AI Extended, version 3.03
New AI by Rotonda makes the computer players better. AI can "select" different strategies for different maps.
New AI can be used ONLY on maps from "aie" directory. AI would be standard on usual maps.
Maps in Scenarios and Scenarios_Sea directories require game type "Use Map Settings" and default resources.
All the maps have been tested, and you can win on all maps although it can be difficult.
Version 3.01 & 3.02
New in version 3.01 & 3.02
War2Ppatcher updated to 5.1 – Iron Man Ladder threshold lowered to 0
no more than 1 shortcut created on desktop
no privileges required to install
shortcut created on current user desktop, not all users
war2combat title changed
ladder list updated
Version 3.00
New in version 3.00
Iron Man Ladder bug fixed
Installer size compressed to 11 Mb
New installer, making installation process more flexible
Some useful tools included
Warcrat II BNE 2.02 patch
Changes in version 2.02
Improvements
Eye of Kilrogg can now patrol.
Fixed some Battle.net issues.
Added support for Battle.net gateways.
[PC Only]. The registry key HKEY_CURRENT_USER is used rather than HKEY_LOCAL_MACHINE.
Battle.net Create Game Chatroom now lists resources and starting location along with map size and game speed.
Major bug fixes
Fixed a hack which would allow you to perform upgrades repeatedly,
bringing your units to normally unattainable levels.
Minor bug fixes
Fixed a bug where sappers would sometimes walk up to the wall, but not detonate.
Fixed a bug which caused the menu screens to become unresponsive to clicks if the computer had been left on fordays or more.
If a player is #1 on both Ironman and Regular ladder, it now shows Ironman stats, not the Regular stats.
Map-passing now sets the map's creator code to W2Be (a Map Editor file) instead of WBN (a War2BNE file).
Clicking on the portrait of an invisible unit not your own no longer centers the map on that unit.
Previously, if somebody else had allied with you, you could not cast death coil on them even if you were not allied with them.
[Mac only]. The application resource version no longer states beta, and copyright notices corrected.
WP patch 1.488
for Warcraft II BNE 2.02
Created by zzzKOTzzz and iL
Email
zzzkotzzz@list.ru
Instruction
Copy file "WPpatch.exe" to your Warcraft II BNE directory.
Run "WPpatch.exe". It will run Warcraft II BNE with WP patch features.
Functions
Loads game without CD*
Even Faster speed for Ladder in create game screen
Even Faster speed for Ironman Ladder in create game screen
Unlock resources for Ironman Ladder in create game screen
Fix bug with resources in create game screen
Allows you to build walls in Single Player
*Usage:
Copy file "install.exe" to your Warcraft II BNE directory (from game CD)
Go to registry HKEY_CURRENT_USER\Software\Blizzard Entertainment\Warcraft II BNE
Find (or create) value War2CD and change it to your Warcraft II BNE directory
Go to registry HKEY_LOCAL_MACHINE\Software\Blizzard Entertainment\Warcraft II BNE
Find (or create) value War2CD and change it to your Warcraft II BNE directory
Execute WP patch
Credits
Idea and first versions by zzzKOTzzz,
Update and revision by il (versions 3.xx)
Updates in v3.1 & 3.15 by Lightbringer-